Google has finally introduced a solution for "legacy" GSuite Google Account holders. Google initially backed down after initially threatening to close free GSuite accounts if users did not start paying for the service. Google will allow their ~ 16-year-old accounts to continue to function once users have crossed certain registration loops. You may also have your email address.
If you have not yet, Google has a custom-domain user account service, now called "Google Workspace" and formerly "G Suite" and "Google Apps". This service is often a normal Google Account, allowing you to use email ending in your custom domain name rather than "@ gmail.com". Today this service is aimed at businesses and costs money every month, but it is not always the case. Custom domain Google Accounts from 2006 to 2012 Were free And were even pitched In families Geeky way to get online Google ID.
In January, some bean counters on Google noticed that this small group of longtime users were technically getting paid for the service and decided it was unacceptable. Google released a notice in January declaring these individuals to be "Legacy GSuite users" and basically telling them, 'Pay or lose your account. ' These users have registered with the free Google service and have been storing data on it for up to 16 years. Google has held more than a decade of user data hostage, telling users to start paying business fees for the workplace or to shut down their accounts.
A week later, after an unavoidable public outcry, Google Slightly discouraged It also vaguely said that it would eventually "provide the option to move your Google Workspace's non-paid content and most of your data to a free option". It is a very dangerous statement to say that you can keep "most of your data" that you have been collecting for 16 years. A bit of detail from Google in January was, "This new option does not include premium features like custom email," so you should stop hosting your email on Google, and you'll have to go to some wild Google account. Alternative process. This allows these users to fly eagerly in the air without details for more than six months.
How to save your free GSuite account
In May, Google finally told these users what would happen to their accounts. The New support page Says"For individuals and families By using your account for business purposes, you can continue to use the free version of G Suite Legacy and opt out of switching to Google Workspace. " Here Or in your GSuite admin panel. You need to make sure your GSuite account is for personal use, not for business use as businesses are still expected to pay for the workplace. If you have already bowed to Google's wishes and started paying for the workplace due to the January announcement, Google says Contact support.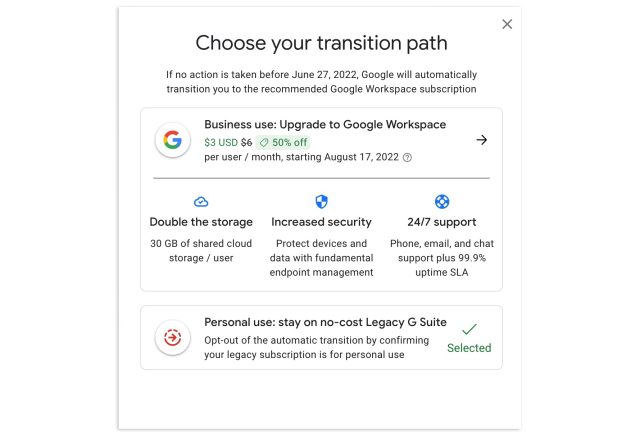 The big news of this latest announcement is that Google has decided against removing people's personal email. A Second support page "You can continue to use your custom domain with Gmail, retain access to free Google services such as Google Drive and Google Meet, and retain your purchases and data." If you click on the "Self-change" screen before the deadline, it now looks like there will be no change in your account.
June 27, 2022 is the deadline to opt out of the account, which has now been changed several times. If you do not complete this waiver by June 27, the workplace will be automatically charged. If the card is not in the file and is not deleted, your account will be suspended and closed on August 1st.
Automatic registration and billing without explicit user permission is one of the main features of this story. If you do not closely follow the tech news show, you are more likely to be unaware that this is coming, and you may find yourself suddenly charged or your Google Account suddenly stopped working without your permission.
Playing games like this is a bizarre decision for the main business pillar that convinces users to store large amounts of data on its servers. At least it came to a reasonable conclusion.
"Lifelong social media lover. Falls down a lot. Creator. Devoted food aficionado. Explorer. Typical troublemaker."